In a business community that's rapidly globalizing, your options have grown for high-tech labor. Several countries have emerged with low-cost, highly-skilled developers, engineers and leaders. Utilizing those resources can lower your projects' cost and provide other benefits as well.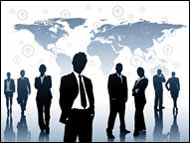 Are you looking for ways to decrease the cost of your IT investment? Does your company operate on a 24-hour basis?

Owning and operating your IT investments can be costly. Finding people with the right skills and at the right time is a challenging task. But the world is large...and the right people are out there.

One option that GDI may involve is offshore or nearshore outsourcing. Collaborating with distant colleagues offers several opportunities for benefit, such as:


Lower cost of labor
Round-the-clock development, support and operations
Specialized skills
...and more

Although not used on every project, GDI has a network of reliable managers, developers, support, testers and other skilled labor ready to build and support your applications.