To understand your business wants and needs and to architect, design and deliver IT applications and processes to keep your company at its competitive best. We continuously strive to

Learn your business
Connect businesses together
Enhance communication
Lower IT costs
Explore new opportunities

But our number one goal is to provide your company with the best service, knowledge and skills to achieve your goals.



For our company's scope and focus,
see our periodic table of elements





GDI provides several IT-related consulting services to help your business clearly define, execute and achieve your ideas and goals from both the business and the technical viewpoints.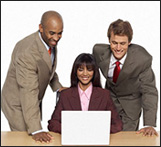 Not just a technology company
Success involves more than technology. Understanding the human involvement, communication patterns, processes & procedures, financial goals, corporate structures, globalization and numerous other concepts and practices will provide a foundation for success.

We merge these ideas with proven technologies to deliver efficient and effective applications to meet your goals...on time and in budget!