Executives...developers...accountants... quality control...database administrators...network engineers...how do they all work together smoothly?

The glue that brings a project to fruition is the project management team. A dedicated PM can make or break an IT initiative.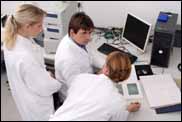 How do all of your teams communicate with each other? Who will keep the project on track to meet its deadlines? Will someone take accountability for the project's status?

Our project managers provide an incalculable level of commitment to the details of our customers' projects and applications. They possess important skills that bond all of the teams together to reach the project goals.


Versatile - Ability to act in different roles
Detail-Oriented - Coordinating numerous tasks
Focused - Ensuring completenes of project details
Highly-Skilled - In-depth knowledge of technologies and tools
People-Oriented - Improving communication through understanding personalities

The GDI Project Managers are highly effective at coordinating the people, the tools, the budget and the processes to deliver your IT solutions on-time and in-budget!