So you've attained a great deal of knowledge on IT and you understand what makes a software system successful. What now?

Extending beyond your current capacity and planning for the future of business and IT is is necessary for your company's survival.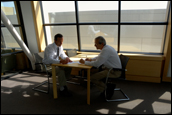 What are your competitors planning to do next? How will you retain customers 3 years from now? What technologies will survive the next evolution of IT?

Developing an IT strategy extends beyond turning ideas into software. GDI offers IT strategy services to help you continuously leverage technology in numerous ways:


Plan for ongoing changes in technology
Account for peoples' increasing tech-savviness
Position your applications for optimal market acceptance
Schedule future releases
Optimize IT solutions where practical

Creating software applications is just one of the many pieces of the IT puzzle. Developing your strategy will ensure success in today's market and tomorrow's as well.