Like a chemist in a lab, here comes the fun part. Mixing and matching technologies like chemicals in a beaker...watch your ideas come to life.

Blending creativity with proven programming strategies and patterns is key to developing a solution that meets your goals, keeps your system agile for changes that arise down the road and fosters the best use of your IT investment.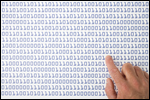 When your company has defined a strategy that involves a custom software application, GDI is there to deliver your solution. Our engineers are all expert-level in their careers and use the most reliable, flexibile and robust technologies to build your applications.

Your applications go through many phases to ensure quality and completeness.


Design - Creating an application blueprint based on the architecture
Development - Hands-on programming
Quality Assurance - Aggressive internal testing/acceptance
User Acceptance Testing - Proofing the final product with its users
Development enhancements - Per UAT feedback.
Deployment - Bringing your application to its end users
Review - Analyzing lessons learned and areas for improvement
Repeat - Iterative development for new features

GDI engineers and developers will scrutinize all the details of your applications to ensure they meet the highest standards.